About the Speers Gallery
Kennebunk Free Library provides space for art exhibits. Exhibit materials may be organized and presented by the Library, members of the community, and not-for-profit groups within the guidelines set forth in the Exhibit Policy below.
The gallery has been host to a variety of mediums including photography, textile arts and mixed media assemblages in addition to renditions in oil, pastel, pen and ink, and watercolor.
In 2011, the gallery in Hank's Room was named the Speers Gallery in honor of Mike Speers, former Library Trustee and Friend of the Library, who was the inspiration of the Gallery.
---
Current Exhibit
November 3-28: Open Studio Artists
The Speers Gallery at the Kennebunk Free Library presents an exhibit by the Open Studio Artists, which will run November 3-28. The public is invited to an opening reception on Wednesday, November 8 from 5:30-7:30 pm.
The Open Studio Artists are a group with ties to Kennebunk and the local area who meet weekly at Kennebunk's Unitarian Universalist Church. They have been meeting for 10 years and range from experienced professionals to newer painters. Each person works independently on their choice of projects, but shares in a supportive community as they sketch, draw, and paint in their favorite medium.
Exhibitors include Ellen Pelletier, Cheryl Dahn, Norma Johnsen, Ruth Wallingford, Sara Ostrov, Mary Barrett, Kathryn Davis, Susan Gilbey, Cheryl Lunde, Elizabeth Hunter, and Polly Cecchetti.
Kennebunk Free Library is excited to display this collaborative exhibit.
---
Speers Gallery Artists for 2023
Month

Artist


January 2023
The Seacoast Moderns Group
"Unexpected"
Mixed Media

February 2023
The School Around Us & The New School
"Inspiring the Love of Art"
Mixed Media

March 2023

Vera M. Piper
"It's Never Too Late!"
Graphite & Colored Pencils


April 2023

Kennebunk Pre-K
"Celebrating the Week of The Young Child"
Mixed Media

May 2023
Liz Roper
"Color, Mood, and Time"
Watercolors & Acrylics

June 2023
Elizabeth T. Schoch
"Wabi-sabi: Finding Beauty in the imperfect"
Photography

July 2023
Wendy Gallart
"Recent Works"
Watercolors, Pastels & Pencils

August 2023
Suzanne W. Demeo
"East meets West: New England to the Sierra Nevada"
Graphite, Charcoal, Micron Pen, Watercolor & Mixed Media

September 2023
Nora A. Ordway
"Hands That Fashion Our World"
Photography

October 2023
Linda K. Thompson
"Celebrating the Creative Process"
Mixed Media

November 2023
Open Studio Artists
Mixed Media

December 2023


Rhonda Miller
"Hearing Nature's Song"
Mixed Media
---
Maine Children's Book Illustrators Gallery

The KFL Maine Children's Book Illustrators Gallery, houses original works of art from children's books by Maine illustrators. Represented artists include Barbara Cooney, Dahlov Ipcar and Kevin Hawkes. It was created in 1995, following the expansion of the Library, and is a wonderful means of educating patrons of the richness and diversity of Maine artists. It also serves to promote literacy by presenting literature in a visual form to the young and young at heart. The Gallery is located on the lower floor in the Library and is open to the public whenever the library is open.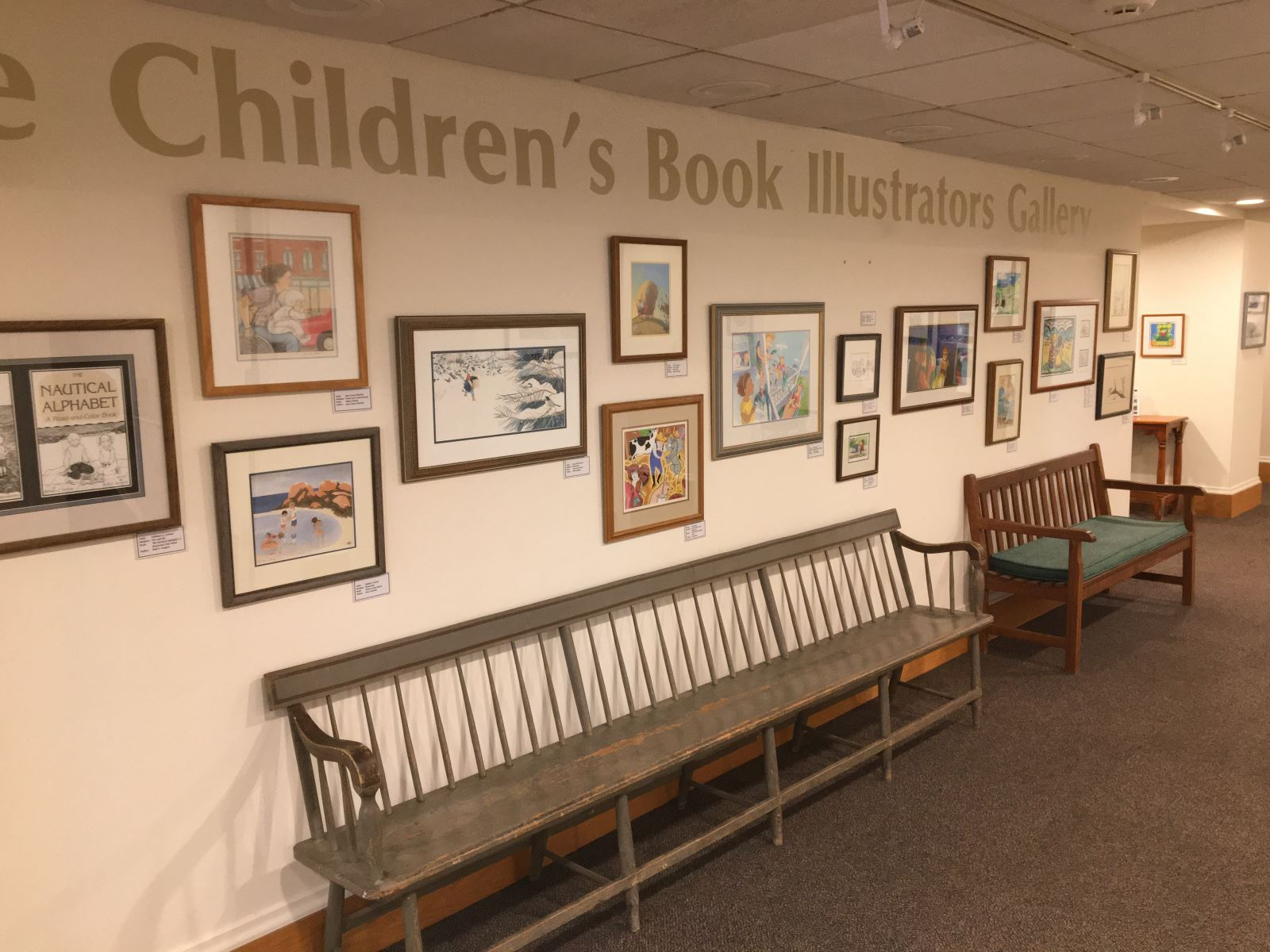 Pictured above is a photograph of the Maine Children's Book Illustrators Gallery, with benches below for patrons to have a seated view of the art.
---
Exhibit Applications, Policy, and Procedures
PLEASE NOTE THE APPLICATION DEADLINE TO EXHIBIT IN 2024 HAS PASSED. INTERESTED ARTISTS MAY APPLY AT ANY TIME TO BE CONSIDERED FOR 2025. THE APPLICATION AND RELATED INFORMATION IS BELOW.
Dear Artists,
The Kennebunk Free Library's Speers Gallery provides a space devoted to exhibiting artwork of local artists. Located on the lower level, the Speers Gallery offers the opportunity for the general public to appreciate the arts in a manner that reflects the Library's mission to inspire and enable our communities to discover, learn, and connect.
We are currently inviting artists to apply to exhibit for a month in 2024. In November 2023, we will convene an art committee, consisting of members from the Library and art communities, to review the completed applications and set a monthly exhibit schedule for 2024. Please note that applications must be received by Friday, October 27, 2023.
Our application form and exhibit policies and procedures are linked below. I hope that you will consider applying to Exhibit for 2024. Please note that there is a $25.00 fee to exhibit and an additional fee of $10.00 to hold a reception. Payment is not due until the month of your exhibit. If you have any questions regarding this process, please feel free to contact me via phone 985-2173 x103 or email at mconners@kennebunklibrary.org.
Sincerely,
Michelle K. Conners
Director
---