About the Speers Gallery
Kennebunk Free Library provides space for art exhibits. Exhibit materials may be organized and presented by the Library, members of the community, and not-for-profit groups within the guidelines set forth in the Exhibit Policy below.
The gallery has been host to a variety of mediums including photography, textile arts and mixed media assemblages in addition to renditions in oil, pastel, pen and ink, and watercolor.
In 2011, the gallery in Hank's Room was named the Speers Gallery in honor of Mike Speers, former Library Trustee and Friend of the Library, who was the inspiration of the Gallery.
---
Current Exhibit
March 1-31: "It's Never Too Late!" by Vera Piper
The Speers Gallery at the Kennebunk Free Library presents "It's Never Too Late!", an exhibition of botanical drawings and paintings by local resident Vera Piper. The exhibit runs March 1 – 31.
Vera Piper was born in 1940 in the hills of Western MD where she spent her childhood exploring the mountain woods with her sister, and later chose a career as a micro-biologist. Looking at tiny plants and animals under a microscope led Vera to develop a deep appreciation for all of the beautiful forms found in nature. Although she had every plant identification book imaginable, she never thought she could learn draw the lovely plants she was collecting wherever she traveled.

Vera finally took her first drawing class in 2000 at age 60 on a whim, but it remained a part-time hobby until she relocated to Maine in 2018 at age 78 to be closer to her family, and began to develop an interest in expanding her art education. In 2021 she began to take a few classes locally to explore sketching and watercolors. The exhibit in Speers Gallery is designed to show how, even in our 80s, we can continue to grow and change and take on new risks to express what we have nurtured through a lifetime. Vera hopes that sharing these drawings will inspire you to try your hand at something new, no matter your age!

Vera will be teaching a class in botanical drawing at The Center in Lower Village Kennebunk this spring. Kennebunk Free Library is please to display the works of this octogenarian artist.
---
Speers Gallery Artists for 2023
Month

Artist


January 2023
The Seacoast Moderns Group
"Unexpected"
Mixed Media

February 2023
The School Around Us & The New School
"Inspiring the Love of Art"
Mixed Media

March 2023

Vera M. Piper
"It's Never Too Late!"
Graphite & Colored Pencils


April 2023

Kennebunk Pre-K
"Celebrating the Week of The Young Child"
Mixed Media

May 2023
Liz Roper
"Color, Mood, and Time"
Watercolors & Acrylics

June 2023
Elizabeth T. Schoch
"Wabi-sabi: Finding Beauty in the imperfect"
Photography

July 2023
Wendy Gallart
"Studies of Beloved Subjects"
Watercolors, Pastels & Pencils

August 2023
Suzanne W. Demeo
"East meets West: New England to the Sierra Nevada"
Graphite, Charcoal, Micron Pen, Watercolor & Mixed Media

September 2023
Nora A. Ordway
"Hands of Working Maine People"
Photography

October 2023
Linda K. Thompson
"Playing with Art!"
Mixed Media

November 2023
Open Studio Artists
"Coastal World"
Mixed Media

December 2023


Rhonda Miller
"Local Landscapes and Creatures"
Mixed Media
---
Exhibit Applications, Policy, and Procedures
Please note we are no longer accepting applications to exhibit in 2023. You are welcome to apply at any time to be considered in 2024.
Artists are invited to apply by October 15 of each year, to be considered to exhibit for the following calendar year. The Art Committee meets each November to review applications and set the exhibit schedule for the following year.

The following policy and procedures are provided to help you prepare to apply. If you have additional questions, please call the Library Director at 207-985-2173.
---
Maine Children's Book Illustrators Gallery

The KFL Maine Children's Book Illustrators Gallery, houses original works of art from children's books by Maine illustrators. Represented artists include Barbara Cooney, Dahlov Ipcar and Kevin Hawkes. It was created in 1995, following the expansion of the Library, and is a wonderful means of educating patrons of the richness and diversity of Maine artists. It also serves to promote literacy by presenting literature in a visual form to the young and young at heart. The Gallery is located on the lower floor in the Library and is open to the public whenever the library is open.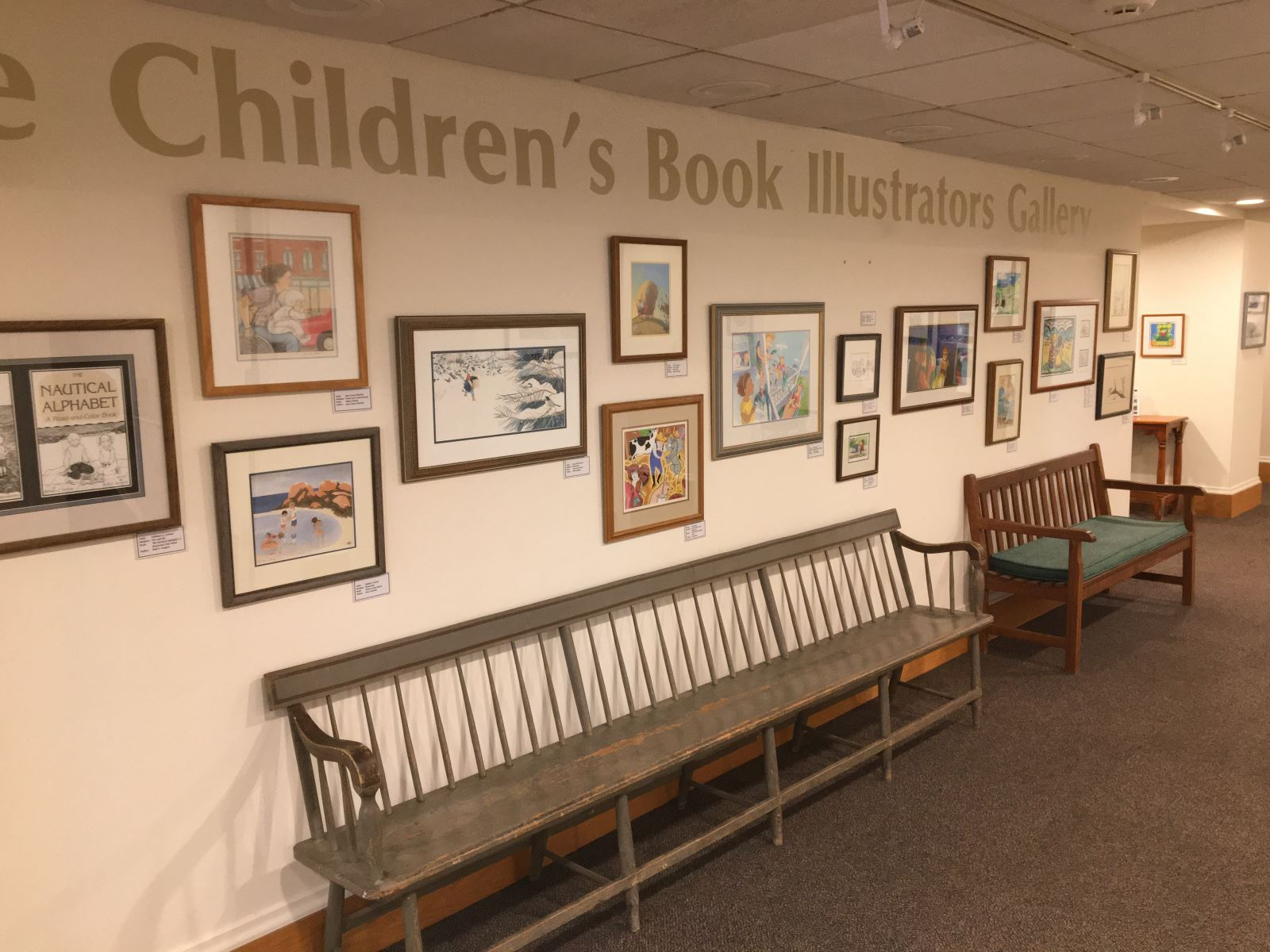 Pictured above is a photograph of the Maine Children's Book Illustrators Gallery, with benches below for patrons to have a seated view of the art.
---