Family Resources
In order to help caregivers with young children, we've gathered some helpful websites to assist you. Ranging from local non-profits and government aid programs to internet safety, KFL has you covered.

Please let us know if there are other resources we should include here. Thank you!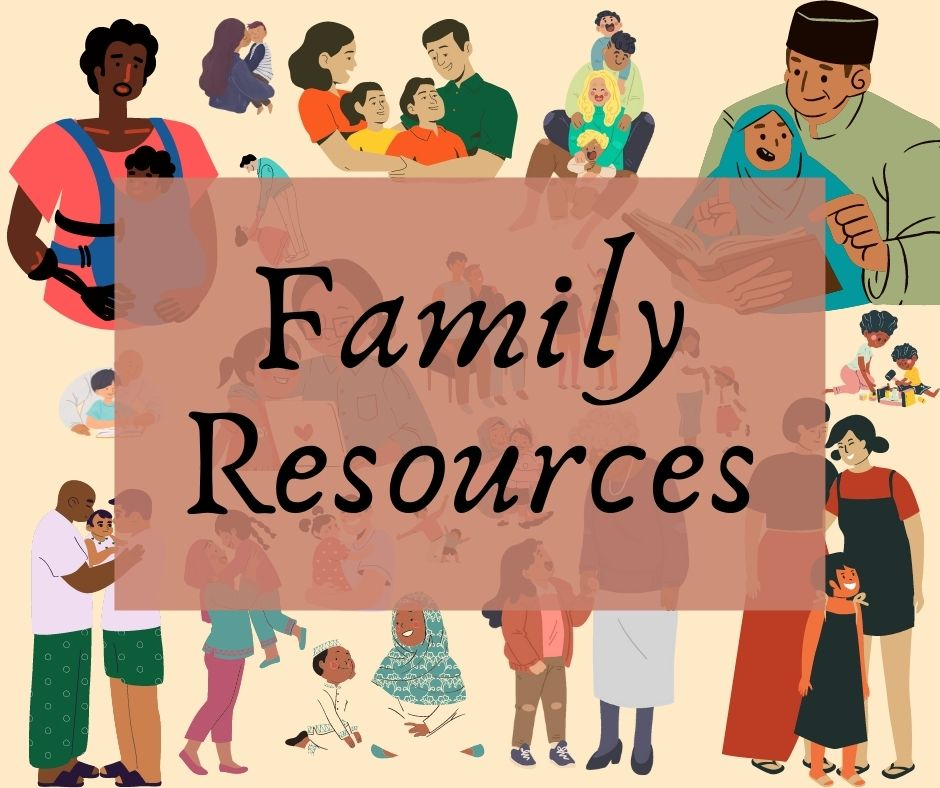 Kennebunk Free Library is not responsible for the information on outside websites. We only provide links to them as a courtesy.
---
Online Safety
Common Sense Media - As media becomes the "other parent" in our children's lives, this website helps us to teach them to develop media savvy. Reviews of movies, games and mobile apps are included.
NetSmartz - NetSmartz provides videos and activities to help teach children to be safer online with the goal of helping children to become more aware of potential online risks.
Connect Safely - Connect Safely offers social media safety tips for kids, teens, parents and educators, along with tech news and other resources.
Interland - Interland is an adventure-packed online game designed to teach children about digital citizenship and safety through hands-on practice.
Zigazoo - Zigazoo is a free, safety-focused social streaming app for kids. It offers a fun, safe way for kids to experience healthy online relationships in an appropriate social media-type platform.
---
Organizations Based in Maine
The Center for Grieving Children - Founded in 1987 by Portland, Maine resident Bill Hemmens, the Center for Grieving Children is a resource that supports children who are grieving the loss of a loved one.
Pink Feather Foundation - Founded in 2012 in Oxford, Maine, the Pink Feather Foundation was created out of a desire to better support students' basic needs so they can be confident, engaged, and prepared to achieve their full potential.
Hardy G*rls, Healthy Wom*n - Established in 2000, Hardy G*rls, Healthy Wom*n is a Maine-based non-profit designed to ignite curiosity, promote thinking critically, build coalitions, and challenge the status quo.
PFLAG - People who are members of the LGBTQ+ community and their families deserve to be safe and secure, no matter where they live, work, study, pray, or play. PFLG offers support, education, and advocacy to make sure all communities have the resources they need to thrive.
EqualityMaine - EqualityMaine is the oldest and largest statewide organization dedicated to creating a fair and just society for lesbian, gay, bisexual, and transgender Mainers.
Midcoast Maine Community Action - MMCA empowers people to build better lives for stronger communities by offering resources available to those in need within the midcoast area of Maine.
Opportunity Alliance - The Opportunity Alliance is the Community Action Agency for Cumberland County. Through multiple integrated community-based and clinical programs, we serve more than 20,000 people annually throughout Maine.
Girl Scouts of Maine - Through programs from coast to coast, Girl Scouts of all backgrounds and abilities can be unapologetically themselves as they discover their strengths and rise to meet new challenges—whether they want to climb to the top of a tree or the top of their class, lace up their boots for a hike or advocate for climate justice, or make their first best friends.
Scouting - The Scouts of America provides the nation's foremost youth program of character development and values-based leadership training, which helps young people be "Prepared. For Life.®"
Boys and Girls Club - The Boys & Girls Clubs of Southern Maine provides summer and after-school programs Monday through Friday to the nearly 3,000 members ages 6-18 who attend their Clubs each year. They provide stable, inclusive spaces for children and teens to find a sense of belonging, explore their creative abilities, practice community responsibility, and develop meaningful relationships with peers and adults.
---
Family Health
Poison Control Center - Poison control help available by phone or online
Product Safety - Through Product Safety, you can keep up-to-date with the latest product recalls from the U.S. Consumer Product Safety Commission
First Aid - Information provided by the American Academy of Family Physicians
First Aid - Information provided by the Mayo Clinic
Medline Plus - National Institutes of Health website for patients, families and friends.
Health Information - from the Barbara Bush Children's Hospital in Portland
Multilingual COVID-19 Resources - Covid-19 information provided in multiple languages by the FDA.
Online Counseling Programs - To support the growing needs of children and teens, OnlineCounselingPrograms.com has gathered resources on mental health, learning and other related topics from sexual identity to study skills. Provided is a compilation of lists, articles, guides and videos to help parents, teachers, professionals and adolescents themselves to assist in social, academic, behavioral and emotional development.
Caring for Each Other - Your friends on Sesame Street are here to support you during the COVID-19 crisis with rich content you can use with children to spark playful learning, offer them comfort, and help your whole family thrive.
HealthyChildren.org - Whether you're looking for general information related to child health or for more specific guidance on parenting issues, HealthyChildren.org is a place to start. Here, you'll find information, activities, and other published child health resources backed by the American Academy of Pediatrics (AAP).
TODAY Parenting Guide - TODAY Parenting Guide provides benchmarks and tips for your child's academic, physical and social emotional growth.
---