Free Tax Help Available
Help ends on April 9, 2015
Free tax help is available at the Library will end on
Thursday, April 9th.
Sign up begins
at 9 AM
when those seeking
tax assistance will be permitted in the Library. Tax help sessions begin at 9:30 AM.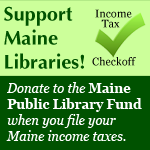 A new year brings a unique opportunity to support the public libraries of Maine! By selecting the "Maine Public Library Fund" check-off to your state income tax forms, you may donate $5, $10 or $25 to help all our Maine libraries.Proceeds from the 2014 tax check-off supported the purchase of additional Ebooks for the Maine InfoNet Download Library.
Depending on the amount of funds raised, the check-off could also support expanding Interlibrary loan support; creating new library programming, and supporting special consultant services from which all can benefit.

---
KFL's Art Fundraiser Ends March 31st.
Our Silent Auction Fundraiser will end on March 31st. If you have had your eye on art to purchase, now is your time! in our Reference Room. There are still many lovely pieces of art; make us an offer that we can't refuse!
Photos of the items are available to view HERE. Please call the library (207-985-2173) to see if the item that interests you is still for sale.
---
KFL Seeks Applicants for KFL Board of Trustees
The KFL Board of Trustees is currently welcoming individuals with a passion for their local library to apply to join the Board of Trustees. As a Trustee, you will team with other Board members in preserving and advancing the interests of KFL. The Board represents the broader community by effectively governing the operations and promoting the development of KFL. The responsibilities of Board members include preparing for and attending regular Board meetings, assisting in annual fund raising events (the Annual Appeal, KFL Road Race, Mini-Golf, etc), participating in the development and approval of library policies, and acting as an advocate for the library through contacts with civil groups and public officials.
All persons 18 years of age who are legal residents and/or employed within the Towns of Kennebunk and Arundel are eligible to serve on the Board and are encouraged to apply.
For more information, the Trustee job description and a nomination form, please visit our website or stop by our circulation desk for printed information.
---
Notary Services Now at KFL
The Library is now offering notary services! The service will be available most weekdays, but we recommend calling in advance to ensure that a notary is available. Please remember to bring a valid photo ID and, of course, the document to be notarized. Most documents must be signed in the presence of the notary to be valid so it's best to not sign in advance. There will be a small $2 fee per document.
For more information, email us or give us a call at 985-2173.
---
IndieFlix at KFL
IndieFlix offers thousands of instant streaming of the world's favorite independent films
from independent filmmakers and more than 2,000 film festivals worldwide, including SXSW, Sundance, Cannes, and Slamdance.
KFL patrons can create an account for free through the RBDigital Gateway. No checkouts, returns, or waiting. Multiple users can watch the same film on different devices at the same time.
IndieFlix is available via all Internet-enabled computers, tablets and smartphones through the web browser.These films are not rated by the MPAA, so viewer discretion is advised.
Click
here
for instructions.
---
CLYNK for KFL
Help raise funds for KFL, and spread the word by telling your family, friends, and co-workers.
Pick up your free CLYNK bags at our circulation desks and fill them up with your redeemable bottles and cans.
Drop off the bags at the nearest CLYNK counters in the nearby Hannaford Supermarkets locations. No need to sort or count. CLYNK bags display a barcode for KFL, so the money goes directly to the Library's account.
---